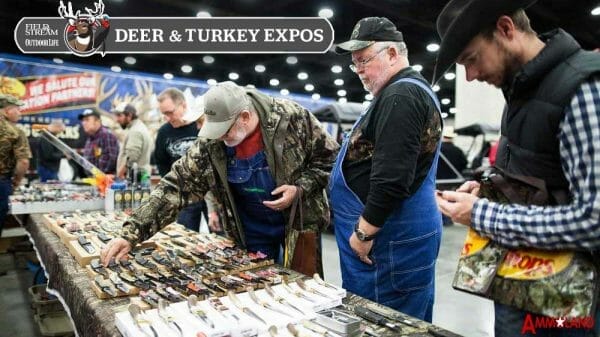 PEWAUKEE, Wis. –-(Ammoland.com)- The 2018 Deer & Turkey Expo series kicked off Jan. 26-28 2018 with a successful return to Louisville, Kentucky, where more than 10,000 avid hunting and outdoor enthusiasts flocked to the Kentucky Exposition Center to experience the sport's latest innovations, trends and techniques.
The Louisville Deer & Turkey Expo is an unrivaled opportunity for hunters from Kentucky and Indiana to experience hunting and archery exhibitor and outfitter booths.
Included is informative seminars by renowned field experts, the ever-popular trophy deer contest and scoring, and trial ranges to test new gear first-hand. And for those within the industry, the expo remains a staple event to start off each new year.
"We had another successful show and our best Friday ever to start the event," said Dax Bunch of Bowdagger. Frederick Hiltibran of Knives Ranch adds: "The traffic! Sales exceeded the 2017 show. Already signed up for next year."
The premier consumer expo series for all things deer and turkey hunting continues in 2018:
Michigan Deer & Turkey Expo: Feb 16-18, 2018
Ohio Deer & Turkey Expo: March 16-18, 2018
Wisconsin Deer & Turkey Expo: April 6-8, 2018
Florida Deer & Turkey Expo: July 20-22, 2018
​For more information, tickets and exhibitor registration, visit deerinfo.com
The Louisville Deer & Turkey Expo was sponsored by Ozonics, 97.5 WAMZ Kentuckiana Country, Bourbon City Firearms, Joe Hill's Powersports, Bardstown Mills, Academy Sports + Outdoors and Snyper Hunting Products.