Taya Kyle and Donald Trump, Jr. Will Be Keynote Speakers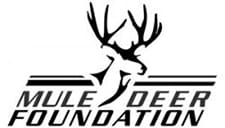 Salt Lake City, UT -(AmmoLand.com)- On Thursday morning, the Mule Deer Foundation and Sportsmen for Fish and Wildlife will open the doors for the 2016 Western Hunting and Conservation Expo (WHCE).
This is the 10th anniversary of the show and will be the largest ever according to event organizers. In addition to the sold out Expo Hall featuring 350 vendors and attractions, this year's evening events will open with keynote speeches by Taya Kyle on Friday evening and Donald Trump, Jr. on Saturday evening. The 2016 WHCE, sponsored once again by Ammo & More and ACI, will be held February 11-14, 2016 at the Salt Palace Convention Center in Salt Lake City, Utah.
"Our evening events are always a top attraction to the attendees of the Western Hunting and Conservation Expo, and I know that they will be particularly motivated to hear from both Taya and Don," said Mule Deer Foundation President/CEO, Miles Moretti. "In addition to these powerful speakers, we will be auctioning incredible hunts and equipment and we have outstanding musical entertainment. Tickets are still available to both the Friday and Saturday evening banquets, but are nearly sold out so make sure you reserve your spot before you head to Salt Lake."
Taya Kyle is the widow of American Sniper, Chris Kyle, and author of the book American Wife: A Memoir of Love, Service, Faith, and Renewal. After Chris' death, Taya founded the Chris Kyle Frog Foundation to support military and first responder families and began speaking publicly about veterans' issues. She will be speaking during the evening banquet on Friday February 12; attendees on Friday night will also enjoy a special appearance by country music icon, Lee Greenwood. On Saturday evening, Donald Trump, Jr., son of presidential candidate Donald Trump and an avid sportsman, will be addressing the crowd. Don has hunted around the world and is a strong supporter of hunting and conservation. Following the Saturday banquet and auction, country music artist Dallas Smith, best known for his infectious single "Tippin' Point", will entertain the crowd.
"We have a fantastic lineup of speakers and entertainers throughout this year's WHCE," commented Jon Larson, president of Sportsmen for Fish & Wildlife. "This has become one of the top consumer sportsmen shows in the West and we are proud to feature such amazing talent, such strong devotion to our hunting and gun rights, and such incredible auction items."
In addition to the largest-ever Expo Hall and the evening events, the WHCE is well known for the high value hunting permits and special big game tags available at banquet and auction events held each day and evening. Once again, the WHCE will offer 200 Utah premium, limited entry, and once-in-a-lifetime trophy hunting tags available by public drawing for $5 per hunt unit application fee. In addition, non-residents will have the chance to draw five once-in-a-lifetime Utah trophy tags – one each for desert bighorn sheep, Rocky Mountain bighorn sheep, Shiras moose, mountain goat and bison.
Throughout the Expo, there will be plenty of educational opportunities for the entire family. The WHCE features a line-up of seminars by some of the industry's top experts. Speakers include World Champion Elk Caller, Corey Jacobsen presenting on how to hunt rutting elk; tips for spot and stalk bow hunting for mule deer by the Heartland Bowhunters; long range shooting techniques by shooting expert Aaron Davidson; and how to slay big muleys by Muleyslayer Marc Smith. For the up-and-coming generation of sportsmen, the WHCE's Youth Wildlife Conservation Experience will give kids the opportunity to learn about the outdoors and shooting sports in a controlled environment and offers many hands-on experiences for everybody. Kids get passports with a list of activities they can accomplish in the designated youth area and throughout the Expo Hall.
The full schedule of events, online registration, and the details of auctions, tags and seminars are available on the WHCE website at www.huntexpo.com.
About MDF:
The Mule Deer Foundation is the only conservation group in North America dedicated to restoring, improving and protecting mule deer, black-tailed deer and their habitat, with a focus on science and program efficiency. MDF is a strong voice for hunters in access, wildlife management and conservation policy issues. MDF acknowledges regulated hunting as a viable management component and is committed to recruitment and retention of youth into the shooting sports and conservation.
Get involved at www.muledeer.org or call 1-888-375-3337.
About SFW:
Headquartered in North Salt Lake, Utah, Sportsmen for Fish & Wildlife is a charitable, non-profit 501(c)(3) organization. The mission of SFW is to promote the protection and enhancement of wildlife habitat, assist in providing quality wildlife management programs, educating the public about the role hunters play in wildlife conservation, and perpetuating the family tradition of hunting and fishing.
Visit www.sfw.net or call 801-936-1386.