Oh… you drive a Toyota RAV4! – 2016 Toyota RAV4 Review.
By Andy Lightbody
AmmoLand Auto Editor

United States -(AmmoLand.com)- Tell just about anyone that you head off for your outdoor adventures in a "Recreation Active Vehicle", and you are likely to be met with a host of blank stares and questions like, "you drive a what?"
And yet with roots that go back to 1996, Toyota's long list of RAV4 subcompact SUVs have remained a top-seller for sportsmen looking for a fun, small, economical and yet roomy city/highway and AWD/gravel road transportation.
2016 Toyota RAV4
Built on a wheelbase chassis of 104.7 inches and sporting an overall length of just under 180-inches, the RAV4 looks tiny from the outside when parked next to nearly anything else that is considered a small Crossover Sports Utility Vehicle (CSUV). However, here is a classic case of where the outside looks are deceiving! Open the doors and the rear hatch, and sportsmen are greeted with comfortable appointments, generous seating accommodations and best of all, great storage room for you and a hunting/shooting buddy's guns, camping gear, fishing stuff and getaway groceries.
The cargo area with the rear seats in the UP position has 38.4 cubic feet of gear space. With the seats folded down it jumps to 73.3 cubic feet. Not only is this one of the largest capacities in its class, the bonus is that the low-mounted rear seat has a very flat load floor and what is called "load-in/load out" height. This helps you minimize the strain-and-pain of loading up heavy gear, and it's a plus for helping your hunting dog jump in! Add a power-assist and height-adjustable liftgate, and the RAV4 has been well thought out and planned for outdoor needs.
The Toyota RAV4 series was redesigned in 2013, so for 2016 it has been freshened up with a new sleeker front end. Toyota is also adding a new SE or up scaled sporty model that will boast a few more luxury appointments and a suspension system to improve handling. At the top of "new additions," will be the 2016 Toyota RAV4 Hybrid [yeah I know show me the gas] limited with All Wheel Drive (AWD). We've yet to drive the new Hybrid offering, so we'll save the combination gas/electric powered 194 horsepower vehicle for a future test and review. Early reports say that Toyota decided to scrap the all-electric RAV EV which was a Tesla design and cost upwards of 50 grand with a more sensible and affordable hybrid.
For the gas-burner crowd, the 2016 Toyota RAV4 carries over with a small 2.5 liter, 4-cylinder engine that throws out 176 horsepower and 172 pound/torque. That may not sound like much, but the AWD version delivers 22mpg in the city and 29 mpg on the highway, and still has enough zip to cruise along comfortably at highway speeds.
Standard, and only transmission for the gasoline series this year continues to be a six-speed automatic that is relatively "driver friendly" when higher-speed driving on the flat/open highways and when cruising in the city or at slower (under 30 mph) speeds on dirt/gravel roads. The 2016 Toyota RAV4 does have some issues when climbing in the mountains, and when you need to "stomp on it" when passing. The tranny likes to jump from gear-to-gear, instead of picking one and staying with it! We overcame that issue by manually shifting the automatic trans with the paddle shifters on the steering wheel.
Although the Toyota RAV4 is small, it can also be outfitted so that it will tow up to a 1500 pounds of camping trailer, utility/toys or a boat. The AWD gives you a better sense of driving security, especially in snow/ice and wet roads. It also gives better traction when crawling around on dirt/gravel roads. The system even has an AWD Locking button that directs a 50/50 torque/power slip to the front and rear when you are traveling at speeds below 25 mph.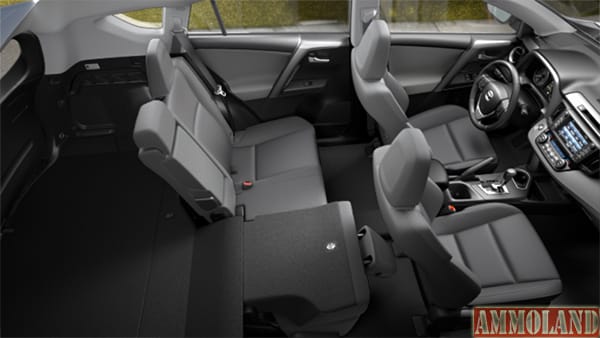 Remember, the 2016 Toyota RAV4 may come with what looks like "front end skid plates," but with only 6.3 inches of ground clearance, this mini SUV is going to be challenged with deep ruts and rock climbing!
With four-levels of trim designs to select from and a fresh front-face update, the RAV4 carries on with a tradition of dependability and affordability for sportsmen in the urban jungle environment, as well as deliver when it's time to head for the hills for some outdoor fun and, I emphasize, "light" off-road driving.
About the Author:
Andy Lightbody is a lifelong outdoorsman, sportsman, writer, author, and broadcaster. He has served as the managing editor for Western Outdoors magazine; senior editor at Petersen's Hunting magazine, and editor for the Guns & Ammo book division. Lightbody has authored countless game and fishing cooking articles, spent the last twenty years collecting jerky recipes from around the world, and was cohost of the TV/web show Cooking on the Wild Side.