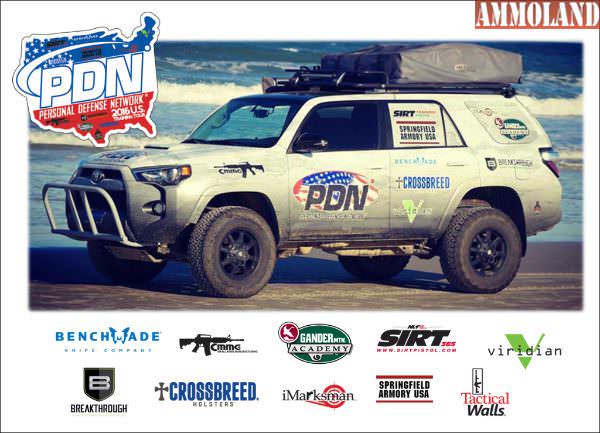 Minneapolis, MN -(AmmoLand.com)- This year's Personal Defense Network Training Tour officially began on March 18th at the Ancient City Shooting Range in St. Augustine, Florida and completed its last official class of 2016 on July 31st in Reno, Nevada.
During the Tour's 135 day run, PDN Executive Director Rob Pincus logged countless miles behind the wheel of the official Tour truck, a customized Toyota 4Runner, sporting bumper-to-bumper A-TACS Camo wrap and prominently featuring the Tour's 11 sponsors. The Tour truck could be seen in cities across the country, including 'behind the lines' visits to NY, NJ, IL, CA and MA. A total of twelve instructors provided more training to more students than any year in the Tour's history, including classes on both consumer and instructor-level topics. Students trained on a variety of defensive skills, including Defensive Pistol Skills, Unarmed Defense, Defensive Rifle Skills, Emergency Medical Skills, and more.
While cumulative enrollment is not specifically tracked, Pincus estimates that almost two thousand students participated in the sixty scheduled classes as well Tour related seminars and conferences.
Pincus summarized his thoughts on the Tour, saying, "This year's tour achieved all of our goals with regard to reaching as many people and places as possible with a diverse collection of important course topics from a great team of instructors. Much thanks to all of them, our sponsors, all our hosts and, of course, the students who attended the classes!"
Along with the professional defensive training, students of the 2016 Tour enjoyed special discounts on PDN Premium membership as well as the opportunity to try out products from some of the sponsoring companies.  One of those companies was Springfield Armory who provided a number of handguns for students to use.
Chad Dyer, Marketing Manager for Springfield Armory said, "We love being part of the PDN Tour.  Not only is it great to add support to the cause of making reality-based training accessible to the masses, it's fun to hear from people wanting to know what's going on when they see our logo on the Tour truck, cruising down the highway."
The bar is set for the 2017 Personal Defense Network Training Tour and plans are underway. For information on 2017 PDN Training Tour sponsorships, contact Rich Sundberg at media@personaldefensenetwork.com.
Editor's Note:  Training classes led by PDN Contributors are scheduled through the end of 2016.  A complete schedule of classes, dates and locations can be found on the PDN Training Tour page at personaldefensenetwork.com/pdn-training-tour/tour-dates/.
About Personal Defense Network:
Personal Defense Network (PDN) is the leading source of no-nonsense personal defense information on the web. Based in Minneapolis, MN, PDN offers a range of personal defense instruction to those serious about arming themselves for defense in every aspect of their lives. Enlisting the professional services and experience of its network of Contributors throughout the United States, PDN is focused on providing high-quality personal defense editorial and video content on the Internet, including Combat Focus Shooting, an intuitive shooting approach developed by PDN Executive Director Rob Pincus. In addition to its online presence, Personal Defense Network has delivered over 3 million DVDs to consumers via the Personal Firearm Defense DVD Series since 2006.
For additional information visit www.PersonalDefenseNetwork.com.