By Brenda Rolin
USAMU PAO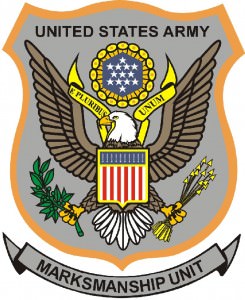 Fort Benning, GA -(AmmoLand.com)- More than 250 Soldiers competed in the 2016 U.S. Army Small Arms "All Army" Championship March 15-19 on U.S. Army Marksmanship Unit (USAMU) ranges.
Sgt. Demetrios Iannios, California Army National Guard, was the overall individual champion of the All Army Championship. The All Army overall team champion was the Illinois Army National Guard. Team members included Sgt. 1st Class David Perdew, Sgt. 1st Class John Stockton, Staff Sgt. Brandon Hornung and Staff Sgt. Jacob Blount. Their coach was Chief Warrant Officer 2 Kyle Gleason.
All winners' names and scores can be viewed at https://ct.thecmp.org/app/v1/index.php?do=match&task=edit&match=13627.
The All Army, hosted by USAMU in conjunction with the Maneuver Center of Excellence, develops combat firing skills at the entry and intermediate levels and recognizes superior skill at the highest level. Soldiers compete in separate classes–consisting of cadet, novice, open and professional—based on previous competition experience.
Staff Sgt. Jeffrey Taylor, marksmanship master trainer and small arms master gunner, 2nd Brigade Combat Team (BCT), 82nd Airborne Division said competitors experienced diverse levels of marksmanship during the All Army.
"I think it's exceptional the way they use the different types of events in the All Army, from the combat rifle matches to the National matches, because it shows the differences in marksmanship—how accurate you have to be in the standing position or how your team has to assemble and how they have to fill their magazines," said Taylor who is a 19-year Army veteran from Pittsburgh and was the coach of the 82nd Abn. Div. teams.
Soldiers competed as individuals and on four-person teams in events like: pistol and rifle excellence in competition matches; combat rifle and pistol courses of fire; multi-gun courses of fire and an Infantry Team Match, among others.
Taylor said he attended a Marksmanship Master Trainer Course (MMTC) at Fort Drum, New York, last year and at the conclusion of training, instructors talked about the 2016 All Army. He said they suggested all the MMTC graduates develop marksmanship teams at their units to compete against the rest of the Army.
Taylor said that's exactly what he did.
The 82nd Abn. Div.'s teams were culled from 30 Soldiers who answered the call for marksmen throughout the Division.
Pfc. Cody Nestor, 2nd BCT, who has been a Soldier since January 2015, participated in sporter rifle competitions for four years on his high school's Junior Reserve Officer Training Corps shooting team and continues to help coach shooting team members during his time off.
The Bruceton Mills, West Virginia, native demonstrated his marksmanship skills during the All Army by winning The Top Active Duty Soldier award in novice class, receiving a plaque and a Chief of Staff of the Army Coin.
Nestor said he loves competing and was gratified to see so many Soldiers from different Army units during the All Army but wishes more had competed. He said the best matches were the National Rifle Match Course EIC and the Infantry Team Match because of the demands on the shooters.
"Any time you get up off the ground with the rifle, it challenges you more and separates the competition—you've got some who are great in prone, but in standing, they don't perform as well," he said of the National Rifle Match. "In the Infantry Match, I had a chance to bond with my team."
Another 82nd Abn. Div. Soldier, Sgt. 1st Class Keyton Brown, 3rd BCT, has 27 years combined military experience in the Army and Air Force—with more than 20 years in the Army. Brown shot on two Air Force command teams under the Peacekeeper Challenge program and has continued to refine his marksmanship skills as a Soldier.
As a member of the Air Force Peacekeeper Challenge teams, Brown mostly shot in short-range matches, but the All Army gave him the opportunity to shoot long-range matches. Brown, of Tyler, Texas, said a lot of Army units shoot short-range distances only and don't learn to make wind estimations and practice good shot placement at longer ranges.
"Shooting at long-range distances makes you consider everything—mostly the wind," he said. "Since I have been out here, I have seen a lot of really experienced, really great shooters."

"It seems every day I am learning something about shooting, about the way I shoot and how to improve. I am going to take all of that home, keep practicing it and using it, and help younger Soldiers out so they can become better."
Besides experienced Soldiers, All Army participants included a group of six cadets from Texas A & M University.
They were coached by Dave Liwanag, USAMU commander from 2003-2006 who now teaches marksmanship at Texas A & M.
Liwanag, a 31-year Army veteran, said the All Army was discontinued in the late 90s, but he reinstated it in 2004 during his command to bring advanced marksmanship techniques in competition to Soldiers to reinforce marksmanship across the Army.
"(The All Army) is a great training opportunity for all regular Soldiers," he said, noting that there have been many improvements to the Championship since 2004. "Now, we use the M16A4 and the M4 with a telescope, and I've seen the action in combat portion developed."
Liwanag said the cadets he is coaching at the All Army are future lieutenants who will have more advanced marksmanship training and skills.
One of those cadets, Samuel Slichter, placed third in the high cadet category. He said he had a lot of fun and learned a lot, such as how to use different optics and different ways to kneel, sit, stand or lay prone.
"It's definitely not an easy match, but there have been a lot of training opportunities," said Slichter, a Newark, Delaware, native. "It's pushing all of the competitors to their limits of expertise and skill."
Another cadet, Raymond Dilworth, a prior-enlisted Soldier who served in Afghanistan, said competitors get to do a lot of shooting during the All Army, and everyone learned a lot about marksmanship.
"It's an eye-opening experience," he said. "It teaches there are a lot of different ways to get the job done, and you learn a lot of new skills."
Two new skills Dilworth learned were to use a sling to stabilize the rifle and to shoot one-handed in a precision pistol match.
"I've been to a lot of shooting schools and I'm still learning things in this competition," said Dilworth of Bells, Texas.
USAMU coaches, instructors and shooters provided rifle and pistol Small Arms Firing Schools to all competitors March 13-14 as well as other assistance throughout the All Army. Information about the next All Army will be available in September 2017 on the USAMU website at https://www.usaac.army.mil/amu/ under "Match Info."
Soldiers interested in attending the Marksmanship Master Trainer Course can go to the Army Training Requirements and Resources System website at https://www.atrrs.army.mil/atrrscc/.
About USAMU:
The U.S. Army Marksmanship Unit (AMU) wins national and international shooting competitions and advances small arms lethality to demonstrate Army marksmanship capability and enhance marksmanship effectiveness in combat.
For more information on the U.S. Army Marksmanship Unit, contact the Public Affairs Office at (706) 545-5436, Brenda.S.Rolin.civ@mail.mil or www.USAMU.com.