Video includes S.E. Cupp Remarks.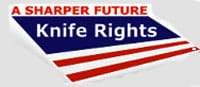 Gilbert, AZ –-(Ammoland.com)- Knife Rights recognized a number of award winners at its annual Sharper Future Awards Breakfast at BLADE Show in Atlanta, Georgia.
S.E. Cupp gave the keynote address and Knife Rights chairman Doug Ritter reviewed the successes of the year to date and plans going forward.
Click to view the video above.
Knife Rights' Ultimate Steel Spectacular supports the legislative initiatives Doug talks about in the video. This year donors can win from $63,000 in prizes, including extraordinary custom knives by leading knifemakers, firearms and an African safari. Go to: www.KnifeRights.org/UltimateSteel
We'd like to thank our Sharper Future Awards Breakfast sponsors who made it possible to recognize these freedom fighters who have demonstrated their commitment to a Sharper Future
About:
Knife Rights (www.KnifeRights.org) is America's Grassroots Knife Owners Organization, working towards a Sharper Future for all knife owners. Knife Rights is dedicated to providing knife owners an effective voice in public policy. Become a Knife Rights member and make a contribution to support the fight for your knife rights. Visit www.kniferights.org
The post 2012 Knife Rights Awards Breakfast & Video appeared first on AmmoLand.com.