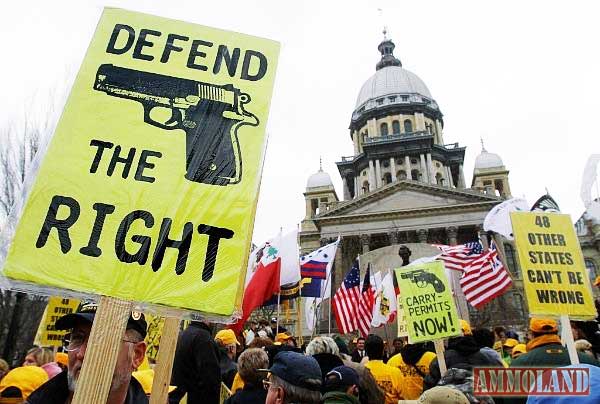 Illinois –-(Ammoland.com)- A major triumph – IllinoisCarry, the ISRA, and NRA joined forces to produce an all new Right to Carry bill for Illinois.
This bill was voted on in the House on May 5, 2011, the first such vote in decades!
In a near triumph, we fell just 6 votes short of the needed super-majority of 72!
The narrow miss can be blamed directly on Gov. Quinn and the city of Chicago who pulled out all the stops in the final days before the vote to campaign against the measure. The bill, HB148, was put on postponed consideration and can be recalled for another vote between now and Jan. 2013. All supporters are working tirelessly to secure the needed handful of votes.
A major triumph – the 7th Circuit Court of Appeals' ruling in Ezell vs Chicago. The court ruled the Second Amendment must be given the same measure of respect as the First Amendment, accused Chicago of thumbing its nose at the U.S. Supreme Court, and basically instructed the city to get their act together in regards to the individual right to keep and bear arms.
A major triumph – the barrier against Right to Carry is beginning to crack in the city of Chicago and Cook County. Elected officials are actually beginning to consider Right to Carry and are even hosting their own town hall meetings on the issue. This is new ground and could be just the break we need to garner the support needed to pass HB148. We feel this movement is due in large part to a group of dedicated IllinoisCarry, Second Amendment Sisters, ISRA and NRA members in Chicago's black community. They have worked very hard on this issue holding several town hall meetings comprised of local Chicago folks. Our hats are off to these fine folks for their hard work and determination.
A major triumph, two lawsuits were filed challenging the ban on the Right to Carry for personal protection. IllinoisCarry is honored to be a plaintiff in the Second Amendment Foundation's lawsuit Moore vs Madigan and the ISRA is spearheading a lawsuit with our feisty friend Mary Shepard. A favorable ruling from either of the court cases could expedite Right to Carry in Illinois.
IllinoisCarry spokesperson, Valinda Rowe, was awarded the prestigious Grass Roots Activist of the Year by the Citizens Committee for the Right to Keep and Bear Arms. This national recognition reflects the diligence and commitment to excellence our organization has come to represent.
We have held many, many town hall meetings from one end of the state to the other, printed mountains of fliers, and marched in parades. We have helped turn Right to Carry into a topic of conversation all over the state. We have seen legislators, who once laughed at the notion of Right to Carry, attending these meetings and even conducting their own town hall meetings to discuss the issue.
IllinoisCarry members have been regular contributors to newspaper, radio and TV programs all over the state, but most importantly inside the city of Chicago. They have testified in committees, met with legislators, marched on the capitol, gone to court, raised funds, produced videos and a host of other activities. All this from a grassroots, all volunteer organization that owns no equipment or property!
IllinoisCarry membership has grown tremendously in this past year, over 600 new members were added to our roster. That's 600 more voices dedicated to being heard, and hopefully 600 more members to add to the nearly 7,000 who will attend IGOLD on Mar. 7, 2012. Our Illinois-specific web site is heavily trafficked by thousands of the most dedicated and involved members and elected officials in the state. This is the result of a lot of people doing a lot of work and doing it right!
We are ready to start our Winter Tour 2012 of Town Hall Meetings in an effort to gain the handful of votes we need to pass Right to Carry. We don't need all the legislators to vote for the bill, just enough of them.
There was a time when talking to legislators about right to carry they would laugh at us…WELL, THEY AREN'T LAUGHING NOW – now they are asking "How can I help"?!
Join us at IllinoisCarry.com and find out how you can help win back our Right to Keep and Bear Arms!!
A very special thank you to Barry Bourdage and the folks at Techpro for hosting the IllinoisCarry website.
Mark Your Calendars!
Schedule the day off from work!
Join the largest turn out of Right to Carry supporters Illinois has ever seen!
Illinois Gun Owner Lobby Day
"IGOLD"
Wed. March 7, 2012
Prairie Capital Convention Center, Springfield, IL
10:30 a.m. – Doors Open
11:00 a.m. Concessions Open
Noon – Legislative Briefing
1:15 p.m. – March to the State Capitol!!
Watch for details as they develop at IGOLD.isra.org and to reserve a seat on one of the many charter buses headed to Springfield!
UPDATE: Illinois Lawsuits
Challenging Ban On Right to Carry
We receive many emails asking for updates on the two Illinois lawsuits challenging the statewide ban on carrying a handgun for personal protection. You can follow details of both the Moore vs. Madigan and Shepard vs. Madigan lawsuits on IllinoisCarry's discussion forum.
To date, a hearing was held on Aug. 4, 2011 on the motion for a preliminary injunction in Moore vs. Madigan . We are still waiting on a ruling from the judge.
In Shepard vs. Madigan, the attorneys filed a motion for a preliminary injunction but no hearing date has been set. The judge could set a date for a hearing or could go ahead and rule without a hearing. Until we hear something from the court, we continue wait.
Help IllinoisCarry.com in the Fight for Right to Carry
IllinoisCarry will be sponsoring and co-sponsoring very important Right to Carry events in the coming months. Resources are needed for fliers, supplies, location and booth rental fees, etc.. You can be a part of these important events by contributing to the cause with your dollars. Be a part of bringing Right to Carry to Illinois – whether it's in a big way or a small way – it all helps to reach the goal! We can't do it without you!
We thank each and every one of you for your diligence and commitment to the Second Amendment. Please feel free to forward this post to your friends, family, and other contacts.
Sincerely,
Valinda Rowe
IllinoisCarry.com spokesperson
---
About IllinoisCarry:

The IllinoisCarry forum was started in April 2004. The idea was that Illinois needed a central location to communicate ideas and information regarding 2nd Amendment issues in Illinois. There are many organizations in Illinois working to protect our 2nd Amendment Rights. Working with these groups IllinoisCarry has become the central location for information and Action Alerts. IllinoisCarry will not endorse political candidates. We simply provide information so voters can make informed decisions. Our goal is to join the other 48 states that allow their citizens to carry concealed firearms. We encourage you to register on our forum and join the fight for your 2nd Amendment Rights in Illinois. Visit www.IllinoisCarry.com