2011 Eastern Sports & Outdoor Show
Features So Many New Exhibitors & Attractions Another Hall Has Been Added.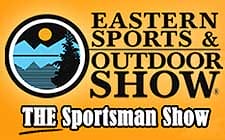 HARRISBURG, PA –-(Ammoland.com)- The 2011 Eastern Sports & Outdoor Show presented by The Outdoor Channel and Comcast, February 5-13, 2011, at the PA State Farm Show Complex, Harrisburg Pa, will feature more manufacturers, more new exhibitors, more attractions and expert guests at the 2011 event.
The Show will feature more than 1,200 of the best outdoor companies & brands, guides, outfitters, retailers, and manufacturers including 300 new companies that were not at last year's Show.
"The demand for more manufacturers and new products grows each year, so we had to add a new hall featuring some of these great products," says Chris O'Hara, Event Director, Eastern Sports & Outdoor Show. "The new hall, called the Archery & Hunting Haven, will offer everyone attending a chance to see more exhibitors, more of the latest archery and hunting gear and expert guests like Chris Brackett and new this year Corey Brossman and Joella Bates."
"Outdoor celebrity favorites like Michael Waddell, Lee & Tiffany Lakosky, Ralph & Vicki Cinaciarulo, Chuck Adams and many more will be at the Show to sign autographs and interact with attendees," added O'Hara. "We have also added new expert guests like Hank Parker, Babe Winkelman and Pat Reeves and Nicole Jones that add even more excitement to the line-up."
New Manufacturers and Additions to the Show Include:
MORE MANUFACTURERS making their first appearance at the Show:
• Mossberg
• Savage Arms
• Gamo Airguns
• Nosler Custom Guns
• Jim Benton Outdoor Adventures
And many more!
More Exhibitors offering gun sales including:
• Kinseys Outdoors
• East Coast Gun Sales
• Schryver Gun Sales
New Celebrity Appearances by:
• Pat Reeves & Nicole Jones from Driven TV
• Hank Parker
• Babe Winkelman
• World Famous Female Bowhunter Joella Bates
New Contests and events including:
• Predator Calling Contest
• US Open Turkey Calling Contest
• Legal Heat, Conceal Carry Permit Class
NEW Archery & Hunting Haven
• More Archery & Hunting Equipment
• Archery Trick Shoot with Chris Brackett
• Bow Fishing Seminars with Corey Brossman sponsored by Innerloc Broadheads TV Show "Innerloc's Out There"
• Campbell Cameras… "Filming Your Own Hunts"
NEW Fishing Experience
• Interactive area for all ages and skill levels.
• An all-new Casting Stage and Demo Pool
• Expert Guest Seminars with Pros including Hank Parker and Babe Winkelman, plus local and regional experts
• Bass Pro Hawg Tank
• A Fishing Simulator to test your skills
• Fish filleting and cooking seminars/demos with Professional Chef, Virginia Lazo
• Trout pond fishing for the kids
• Capital City BassMasters Casting Kids competitions on Sunday, Feb. 7th and Sunday, Feb 13th
• Daily fishing lessons for kids and adults provided by Capital City BassMasters
NEW Family Food Specials and Daily Cafeteria Specials
• Daily Cafeteria Specials featuring Pepsi Products and 1,200 seats to relax and enjoy your meal
• New! Sportsman's Lounge featuring Wild Game Foods in the NorthWest Hall
• Kids and Family Specials with great family pricing
NEW Entrance closer to the Parking Lot
And the traditions that you enjoy:
• Chuck Adams
• Randy Oitker
• Fly Casting Demos with Dusty Wissmath and Frank Angelo
• The Bass Pro Hawg Tank
• Deer Butchering with Chef Albert Wutsch
• Sausage & Jerky Making with Rick Fetrow
For more information on the complete schedule of seminar speakers, contests and family entertainment offered at the 2011 Eastern Sports & Outdoors Show, log onto www.easternsportshow.com .
Other Eastern Sports & Outdoors Show sponsors include: Thompson Center Arms, Cabela's and Michael Waddell's Bone Collectors.
About:
The Eastern Sports & Outdoor Show presented by The Outdoor Channel and Comcast, now in its 56th year, has grown to be the largest outdoor hunting and fishing event of its kind in North America. With more than 1,200 exhibitors, The Eastern Sports & Outdoor Show brings the passion for the outdoors–indoors–by bringing outdoor sports enthusiasts of all ages from across the country to view the latest and best in hunting and fishing gear, shop for ATV's and RV's and plan & book hunting and fishing trips with outfitters & charters from around the world. The Eastern Sports and Outdoor Show also offers a wide range of seminars presented by experts along with hunting- and fishing-related contests and family-oriented entertainment. Visit: www.easternsportshow.com