2011-2012 Georgia Hunting Seasons & Regulations Available
Hunting Regulations Available Now in Print and Online.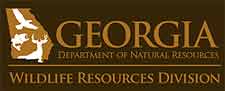 SOCIAL CIRCLE, Ga. –-(Ammoland.com)- The 2011-2012 Georgia Hunting Seasons and Regulations Guide is available online and in print announces the Georgia Department of Natural Resources, Wildlife Resources Division.
This guide provides information on season dates, bag limits, hunting licenses, wildlife management areas and much more and is available to view, download and print at www.gohuntgeorgia.com/hunting/regulations .
Printed copies are available at Wildlife Resources Game Management and Law Enforcement offices and license vendors throughout Georgia.
"The Hunting Seasons and Regulations publication is designed to better inform hunters on the laws and regulations for hunting in Georgia," says John Bowers, Wildlife Resources Division Assistant Chief of Game Management. "We encourage all hunters to review the publication each year for any changes to their favorite hunting areas, seasons or activities."
Members of the Board of Natural Resources enact hunting regulations by acting on recommendations made by the division's professional wildlife biologists and field personnel. Georgia's game and fish laws are enacted by the elected members of the General Assembly.
Regarding hunting regulations, some of the major changes for 2011-2012 include:
Baiting of Deer & Feral Hogs: The Georgia General Assembly passed a legislation change to Georgia law relating to hunting deer and feral hog over bait. For complete information, review p. 24 in current regulations.
Bear Season for Bibb, Houston and Twiggs Counties: In response to public desires and consistent with biological data, the Wildlife Resources Division is providing the opportunity to hunt bear on private land in Bibb, Houston, and Twiggs Counties.
Bear Bag Limit (Northern Zone): In response to public desires and to facilitate stabilization of the mountain bear population, the bear bag limit in the Northern Zone has been increased from one (1) to two (2).
Georgia Outdoor Recreation Pass (GORP): In response to public input and to increase the self-sufficiency of providing certain recreational opportunities on WMAs and PFAs, a GORP may be required to utilize designated fee areas on state-owned WMAs and PFAs. Additional requirements exist for certain organized events involving more than eight individuals. Individuals that hold a valid lifetime, sportsman, honorary or WMA license are exempt from this requirement.
Raccoon Zone Lines: In response to public input, the raccoon trapping and hunting zone lines have been eliminated.
Special Coyote Hunts on WMAs: In response to public input, several WMAs will provide special opportunities to hunt coyotes. These WMAs are Crockford-Pigeon Mountain WMA, J.L. Lester WMA, Paulding Forest WMA and Pine Log WMA.
Feral Hog Hunts on WMAs: In response to public input, opportunities to hunt feral hogs have been added or expanded on several WMAs.
Woodcock: In response to changes in the Federal framework for this migratory bird and in response to public desires, hunting opportunity for woodcock has been increased by 15 days.
For more information on Georgia hunting seasons and regulations, visit www.gohuntgeorgia.com/hunting/regulations contact a local Wildlife Resources Division,