2010 Conservation Reserve Program General Sign Up Starts Today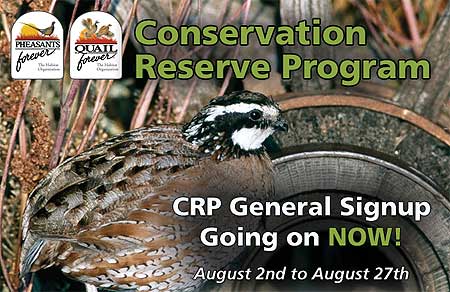 Aurora, Colo. –-(Ammoland.com)- CRP sign-up 39 is the first general signup opportunity since 2006. Consider offering acres for enrollment today, as the sign-up period closes on Friday, August 27th.
The U.S. Department of Agriculture (USDA) has announced new Conservation Reserve Program (CRP) general sign-up 39. CRP acres provide the top nationwide habitat component in producing quail, while providing a host of soil, water quality and environmental benefits.
What:
During the sign-up period, farmers and ranchers may offer eligible land for CRP's competitive general sign-up at their county Farm Service Agency (FSA) office. It is recommended that you contact your local FSA Service Center to schedule an appointment.
When:
Monday, August 2nd through Friday, August 27th.
Where:
To find your local USDA/FSA service center CLICK HERE
Pheasants Forever and Quail Forever Farm Bill Biologists are prepared to work with landowners through the entire sign-up period. To find the Farm Bill Biologist in your area, CLICK HERE
Helpful Links
Your Thoughts
Share your CRP general sign-up experience or opinion by emailing Quail Forever at press@quailforever.org.
Media
For CRP sign-up Public Service Announcements, CLICK HERE
For inquiries, contact:
Anthony Hauck
Public Relations Specialist
(651) 209-4972 ahauck@quailforever.org