TURKEY LOADS – Up to $20 back on Federal Premium Turkey Ammunition.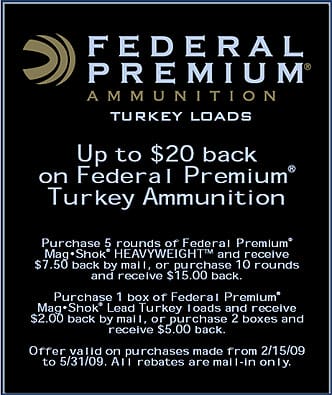 Purchase 5 rounds of Federal Premium® Mag•Shok® HEAVYWEIGHT

and receive $7.50 back by mail, or purchase 10 rounds and receive $15.00 back.
Purchase 1 box of Federal Premium® Mag•Shok® Lead Turkey loads and receive $2.00 back by mail, or purchase 2 boxes and receive $5.00 back.
Offer valid on purchases made from 2/15/09 to 5/31/09. All rebates are mail-in only.
About:
Federal Premium actively promoted the establishment of the Wildlife Restoration Fund in the 1930s, a critical source of revenue for wildlife management agencies. It has also sponsored training programs for new instructors in the Boy Scouts and 4-H, invested in programs to train wildlife professionals on the importance of hunting to conservation, and supported organizations that protect wildlife habitat.