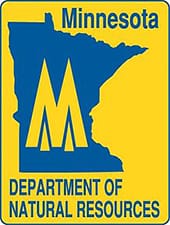 Minnesota -(Ammoland.com)- The Department of Natural Resources recently honored two minnesota youths for their outstanding conservation efforts during a ceremony held Sept. 4, at the Minnesota State Fair.
Sander Ludeman from Lake Crystal, in Blue Earth County, received the 4-H award, and Daniel Williamson from Spicer, in Kandiyohi County, received the Future Farmers of America (FFA) award during a ceremony held at the DNR Stage.
The DNR Commissioner's Youth Awards are given annually to an FFA student and a 4-H member who have demonstrated initiative, leadership, creativity and achievement in conservation and wise use of natural and agricultural resources. This is the 24th year of the award program.
Ludeman has a passion for the outdoors and loves to swim and fish. He noticed the degraded quality of the water in Crystal Lake and ask his parents, "What can I do?" He then reached out to his neighbors and to local partners like the Crystal Waters Project.
His project, titled "Fighting for Fish," focused on building and installing floating vegetation islands to absorb excess nutrients from Crystal Lake, and an adopt-a-drain program to engage the community in preventing contaminants from entering the lake.
"Sander's efforts haven't stopped there," Landwehr said. "On Sept. 12, he spoke at a 'Crystal Concert,' an event to help raise funds for clean-up of the lakes around Lake Crystal."
Sander is the son of Breanna and Sander Ludeman.
Williamson received the Commissioner's FFA Youth Award. He lives in Spicer on a certified organic farm with his parents – a farm he wants to take over someday. He wondered if the water running through their farm had chemicals in it, and whether a wetland was improving water quality.
With encouragement from his parents, Williamson reached out to his local soil and water conservation district office and the Middle Fork Crow River Watershed District for help in answering these questions.
"Daniel's multi-year project is testing water clarity, nitrate and phosphate levels in a drainage ditch and the water leaving a wetland," Landwehr said. "With help from his partners at the watershed district, Daniel has learned how to collect and prepare water sampling, and analyze the results. He is in year two of his three-year plan and has already learned a great deal."
Daniel is the son of Donnel and Christa Williamson.