2 Days Until the Second Amendment March In D.C.
It is time! Countdown to April 19, 2010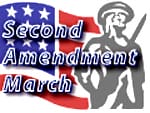 Washington, DC –-(AmmoLand.com)- By now those of you who are attending the Washington DC Second Amendment March are either on your way or about to depart home to travel into our nation's capitol, which, ironically enough, is the most corrupt and civil rights repressive city in America.
We are venturing unarmed into the belly of the beast! Others are remaining home to attend one of the State Capitol rallies. I want to thank all of you for supporting us and for helping to defend liberty in America.
Over the past 100 years, freedom in America has lost ground, but now it's time to get it back.
If you haven't already, please consider donating to the march or attending Washington DC on April 19th. Meet us at the Washington Monument Grounds from 10AM to 4PM. This is going to be a Second Amendment celebration that will not soon be forgotten. Stand with us and become part of history.
We are doctors, farmers, factory workers, teachers, stay-at-home moms, soldiers and police officers…..
We are everywhere, and we are America. We are the guardians of the republic.
Visit www.SecondAmendmentMarch.com for the latest updates!
God bless freedom! Skip Coryell
Founder, Second Amendment March
About:
The mission of the Second Amendment March is to galvanize the courage and resolve of Americans; to petition our elected officials against establishing anti-gun legislation; and to remind America that the Second Amendment is necessary to maintain our right to self defense. Visit: www.secondamendmentmarch.com