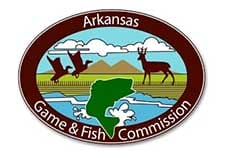 Marshall, AR -(Ammoland.com)- Macie Woods is handy on the basketball court for the Marshall High Bobcats.
She is even more accomplished with a gun in her hands. Macie, 15 and a sophomore at Marshall, downed an 8×8 bull elk Monday morning, the opening day of the second 2014 Arkansas elk hunt.
Biologists with the Arkansas Game and Fish Commission estimated the bull weighed over 800 pounds. She was hunting on private land along U.S. Highway 65 in the Bear Creek area north of Marshall.
Macie said she crossed the highway and walked through the field to get to the elk. "We were afraid the elk would see us, so we got behind some hay bales. Then my dad told me to shoot."
Macie rested her 7mm Magnum rifle on a tripod and fired. She hit the elk, but it didn't go down. She fired again, hit the elk again. The range was 360 yards, measured with a rangefinder.
This was Macie's first elk to take although she has hunted them previously on private land. She is experienced with deer and turkey hunting too. And she's a whiz with a shotgun. She won this year's state championship of the Arkansas Youth Shooting Sports Program.
The elk hunt is in two segments – public land and private land. Twenty hunters have permits, drawn at random, on public land near the Buffalo River. Private land hunting is under a quota system and will end when the quota of eight bulls and 20 cows is reached. Macie was hunting on land of Pat and Libby Connor and said, "I'm really fortunate for them to let me hunt here."
Macie is the daughter of Robb and Suzanne Woods. The hunt on public and private continues through Friday, Oct. 31. The private land bull quota of eight was filled the first day.
Jaden Fraser of Vilonia, 11 years old, became the youngest female to take an Arkansas elk when she downed a 5×6 bull in the Bearcat Hollow Wildlife Management Area on Tuesday.
Other successful public land hunters included:
Jordan Johnson of Little Rock, cow.
Jack Keeling of Hot Springs, 6×7 bull.
William James of Benton, 5×5 bull.
William Spearman of Waldron, cow.
Andrew Guffey of Pangburn, cow.
Michael Dillard of West Fork, cow.
John Williams of White Hall, cow.
Stan Jones of Hoxie, cow.
Kolbey Wood of Clarksville, 5×6 bull.
Derek Mallen of Cabot, cow.
Other successful private land hunters were:
Marvin Smith, 7×7 bull; Coleman Taylor, 5×5 bull; Lewis Crow, 5×6 bull; Marley Abell, 5×6 bull, Craig Bueller, 6×7 bull; Kent Reding, 5×6 bull; Ken Maestri, 6×6 bull; Tim Moreland, cow; Ron Kittleson, cow; Jesse Edgemon, cow; Keith Westbrook, cow; Chris Stolic, cow. Brent Mistler, cow.
About The Arkansas Game and Fish Commission (AGFC)
The Arkansas Game and Fish Commission plays an important role in keeping The Natural State true to its name. During the last 100 years, the agency has overseen the protection, conservation and preservation of various species of fish and wildlife in Arkansas. This is done through habitat management, fish stocking, hunting and fishing regulations, and a host of other programs.