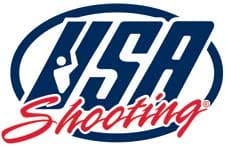 USA -(Ammoland.com)- The biggest International Shooting Sport Federation (ISSF) World Cup series event is already upon us in 2017 and 14 USA Shooting Team athletes, including five Olympians, are set for the challenge that begins Friday in Munich, Germany. More than 750 athletes from 80 nations are expected to compete.
Munich is hosting an ISSF World Cup stop for the seventh-straight year at the well-known Olympic Shooting Range in Hochbrück. The historic venue hosted the Olympic Shooting events of the Games of the XX Olympiad held in 1972 and where Lones Wigger and John Writer each earned gold that year.
This is the first and only World Cup action of the year for America's rifle and pistol athletes and headlining the squad is 2016 Air Rifle Olympic Champion Ginny Thrasher (Springfield, Virginia). USA Shooting coaches chose not to participate in the opening World Cup of the year in India and won't participate in the final World Cup of the year in Azerbaijan.
Thrasher's previous two international events have proven successful considering she earned Team USA's first Olympic gold medal of the 2016 Olympic Games and earned a bronze at the World Cup Finals to close out a spectacular 2016 performance. She made her first career appearance in a World Cup final at the Munich range in lead-up to Rio last season, finishing seventh in Air and fourth in Three-Position Rifle.
Most recently, Thrasher finished second (Three-Position Rifle) and seventh (Air) at the NCAA Rifle Championships and second in those same events at the 2017 National Junior Olympic Shooting Championships.
Other Olympians competing include three-time Olympian Keith Sanderson (Rapid Fire Pistol/Colorado Springs, Colorado),pistol athlete Will Brown (Twin Falls, Idaho),Air Rifle competitor Lucas Kozeniesky (Fairfax, Virginia) and 2012 pistol Olympian and rifle convert Nick Mowrer (Butte, Idaho).
Alex Chichkov (Temple Terrace, Florida) is the only other pistol athlete participating and will compete in both Air and Rapid Fire events. Other rifle athletes competing include: Dempster Christenson (Sioux Falls, South Dakota); Lauren Phillips (Seabeck, Washington); Emily Stith (Colorado Springs, Colorado); Bryant Wallizer (Little Orleans, Maryland); Tim Sherry (Highlands Ranch, Colorado); Elizabeth Marsh (Searcy, Arkansas); Hannah Black (Richmond, Virginia); and Emily Holsopple (Wilcox, Pennsylvania).
Thrasher and Kozeniesky were coach selections for participation at the Munich World Cup while other athletes were selected based upon results as well as Performance Standard Score (PSS) qualification from the recent Spring Selection Match in Fort Benning, Georgia.
The OLYMPIC CHANNEL will be livestreaming the ISSF World Cup in Munich, so tune in here. Check for results and other streaming options courtesy of the ISSF website.
Schedule:
Friday, May 19 – M/W Air Rifle Qualification + Final
Saturday, May 20 – Men's Prone Rifle Elimination; Rapid Fire Pistol Stage 1
Sunday, May 21 – Men's Prone Rifle Qualification + Final; Rapid Fire Pistol Stage 2 + Final
Monday, May 22 – Men's Air Pistol Qualification + Final; Women's 3P Rifle Qualification + Final; Men's 3P Rifle Elimination
Tuesday, May 23 – Women's Air Pistol Qualification + Final; Men's 3P Rifle Qualification + Final
About ELEY:
Eley is a Proud Sponsor of the USA Shooting Rifle and Pistol Teams: ELEY Limited, manufacturer of the world's most consistently accurate rimfire ammunition, has been the Official Sponsor and Official Supplier of .22 rimfire ammunition of the USA Shooting rifle and pistol teams since 2000.
For more information on ELEY and their products, please visit their website.
About Winchester Ammunition:
Winchester Ammunition is a Proud Sponsor of the USA Shooting Shotgun Team: Winchester Ammunition has been the exclusive ammunition sponsor and supplier of the USA Shooting Shotgun Team since 1999. Members of the past two shotgun teams brought home a combined six medals from London and Beijing using Winchester AA International Target loads. Winchester is an industry leader in advancing and supporting conservation, hunter education and our country's proud shooting sports heritage.
For more information about Winchester and its complete line of products, visit their website.
About USA Shooting:
USA Shooting, a 501c3 non-profit corporation, was chartered by the United States Olympic Committee as the National Governing Body for the sport of shooting in April 1995. USA Shooting's mission is to prepare American athletes to win Olympic medals, promote the shooting sports throughout the U.S. and govern the conduct of international shooting in the country.