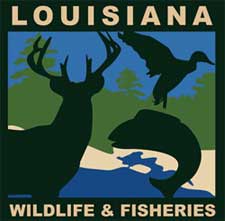 Louisiana  -(Ammoland.com)- Louisiana Department of Wildlife and Fisheries (LDWF) biologists have received a fifth cohort of juvenile whooping cranes at White Lake Wetlands Conservation Area (WCA) in Gueydan.
The 14 young cranes received Dec. 4 add to the state's resident population established through an LDWF species restoration project.
"As we prepare to enter year five of this project, I encourage the public to continue to support our biologists in this effort by observing these birds from a distance and reporting any sightings of injured birds or anyone attempting to harm them in any way," said LDWF Secretary Robert Barham.

"We are fortunate to have a number of private landowners who have assisted us by working with our staff when the cranes roost on their property and I thank them for their participation."
The White Lake WCA location in Vermilion Parish provides temporary shelter for the birds prior to their release into the wild. The cranes were raised at the U.S. Geological Survey (USGS) Patuxent Wildlife Research Center in Laurel, Md., and the International Crane Foundation (ICF) in Baraboo, Wis., and flown to Louisiana by the Windway Capital Corporation. This month's delivery increases the Louisiana whooping crane population to 40.
LDWF continues to work cooperatively with the U.S. Fish and Wildlife Service, USGS, ICF and the Louisiana Cooperative Fish and Wildlife Research Unit to bring the species back to the state. Project funding is derived from LDWF species restoration dedicated funds, federal funds and private/corporate donations which are facilitated by the Louisiana Wildlife and Fisheries Foundation. Major corporate funding support to date has been provided by Chevron and ConocoPhillips.
The whooping cranes in Louisiana are designated as a non-essential, experimental population (NEP) under the provisions of the Endangered Species Act. This designation and its implementing regulation were developed to be more compatible with routine human activities in the reintroduction area. The initial cohort of birds received in 2011 marked the first presence of whooping cranes in the wild in Louisiana since 1950.
Hunters, fishermen and anyone who spends time in the marshes and rice fields of Louisiana are reminded that whooping cranes in Louisiana are still protected under the Endangered Species Act and the Migratory Bird Treaty Act and cannot be pursued, harassed, captured or killed.
Waterfowl hunters should be accustomed to seeing large-bodied, white birds with black wing-tips, such as white ibis, white pelicans, and wood storks, which must be distinguished from the legally-hunted snow geese.  Mature whooping cranes are equally identifiable as they stand five feet tall and have a wingspan of 7 to 8 feet. Easily identifiable characteristics of whooping cranes in flight include black wing tips and fully extended neck and legs, which extend well beyond the tail.
Anyone witnessing suspicious activity involving whooping cranes is advised to report that information to LDWF's Enforcement Division by calling 1-800-442-251 or using the tip411 program, which may offer a cash reward for information leading to arrests or convictions. To use the tip411 program, citizens can text LADWF and their tip to 847411 or download the "LADWF Tips" iPhone app from the Apple iTunes store free of charge.  CitizenObserver, the tip411 provider, uses technology that removes all identifying information before LDWF receives the text so that LDWF cannot identify the sender.
For more information on the re-introduction of whooping cranes to Louisiana, please visit www.wlf.la.gov