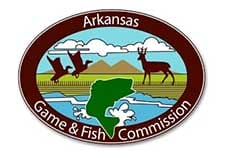 Arkansas -(Ammoland.com)- Ten cadets have completed more than 700 hours of intensive training to become wildlife officers with the Arkansas Game and Fish Commission.
The group studied at the H.C. "Red" Morris Training Center east of Mayflower on Lake Conway. Graduation ceremonies for the 2015 cadet class will be held
Oct. 29
at Antioch Baptist Church in Conway.
Major Jason Parker directs the cadet-training program, with many AGFC enforcement officers and staff members serving as instructors. Other experts participate in the teaching of specialized topics. The 10 cadets were chosen from several hundred applicants. Requirements for wildlife officer cadets include college degrees or law enforcement experience.
The 16-week training course includes police fundamentals related to wildlife work, training in proficiency with a variety of firearms, first aid and rescue basics, drug enforcement procedures and physical conditioning. The new wildlife officers have state commissions as officers with full police authority, as do the other wildlife officers of the AGFC.
Assignment of the new officers will fill several existing vacancies in the AGFC's enforcement ranks. They will be assigned to wildlife officer positions across the state, working under experienced officers.
The 2015 graduates and their county assignments are:
Bradley Huggins, Ashley
Kristopher McCrea, Lee
Jeremy Conner, Yell
Kenneth Nelson, Searcy
Ryan Walker, Bradley
Bernardo Soliz, Sevier
Neva Randel, Crawford
Dalton Shaw, Clay
Miles French, Columbia
Brandon Williams, Phillips